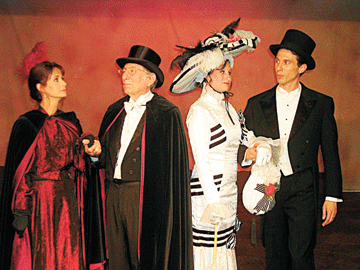 Lord and Lady Boxington (played by Leonard Scarcella, Mayor of Stafford and Stacey Crews) accompany Eliza Doolittle (Katie Harrison) and her escort, Freddie Einsford Hill (Roy Johnson) to a horse race at Ascot in Fort Bend Theatre's production of Lerner and Loewe's My Fair Lady.
Wouldn't it be Loverly to go to the Stafford Centre, 10505 Cash Road, and remember how you Could Have Danced All Night with Henry Higgins and Eliza Doolittle? With a Little Bit of Luck you too could attend award winning Fort Bend Theatre's production of Lerner and Loewe's My Fair Lady playing August 1- August 3.
Fort Bend Theatre offers a full professional orchestra, breathtaking sets and costumes, free parking, and a dynamic, professionally trained cast, including Broadway and HBO sensation David La Duca, as Alfred P. Doolittle, Houston's finest ingÈnue Katie Harrison as Eliza Doolittle, New Bedford Theatre's Luke Wrobel as Henry Higgins and featuring the Honorable Mayor of Stafford, Leonard Scarcella, as Lord Boxington.
Performance times are Friday and Saturday evenings, August 1 and 2 at 8 pm, with a Sunday matinee August 3rd at 3 pm. Tickets for this wonderful show are available online at the FBT website, www.fortbendtheatre.com, and are priced way below value, ranging from $15 - $35, with group discounts for 10 or more.
For more information, call FBT at 281-208-3333.